Boca Raton, FL (June 27, 2021) – Around 11 a.m. on the morning of Saturday, June 26, a man was killed in a fatal truck collision in Boca Raton.
According to Florida Highway Patrol officials, the accident happened on I-95 around the area of Glades Road. A passenger vehicle was traveling in the area when the driver attempted to change lanes. This is when a truck driving in the area collided with the vehicle, unable to stop in time. The truck then sideswiped a second vehicle before it slammed forcefully into the concrete barrier in the center of the road.
Paramedics and numerous other responders were present at the scene. A passenger inside the truck, identified as a 63-year-old man, was ejected from the vehicle. He was tragically pronounced dead at the scene due to his injuries.
The vehicles involved in the accident were completely damaged and had to be towed from the scene.
No further details have been released but the investigation remains ongoing.
We would like to offer our deepest condolences to the family of the deceased victim at this time.
Truck Accidents in Florida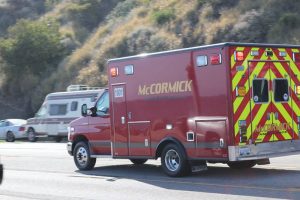 Florida sees more truck accidents every single year within the state, which means that they also see more fatalities than many other states in the U.S. In fact, the NHTSA reported that Florida was the site of approximately 5% of all fatalities involving commercial trucks in the U.S. More and more drivers hit the roads in Florida every single year, which means that truck accidents are more likely to happen than ever before. It is never easy to face the loss of a loved one in a truck accident. Because of this, families are urged to seek the immediate help of an attorney in their time of need.
Losing somebody close to you in a Florida truck accident can have an enormous impact on every aspect of your life. As you grieve the sudden loss of a loved one, you may wonder how you will afford to pay the bills that pile up against you. Suffering from these losses can put you in a difficult position, especially because truck accidents are incredibly complex. If you have lost somebody you love in a truck accident, you have a variety of options moving forward. It is important that you speak with a skilled Florida wrongful death attorney as soon as possible.
At Your Damage Lawyer by Chad J. Robinson, PLLC, we have aggressively fought to protect the rights of those who have lost loved ones in fatal truck accidents. We understand how challenging it can be to move forward after one of these accidents on your own, especially if you have suffered such immense losses. Speaking with an attorney can ensure that you receive the compensation you deserve for a wide array of aspects such as medical expenses, funeral costs, pain and suffering, and so much more. We are here for you every step of the way. Please do not hesitate to contact an accident attorney in Florida at (561) 564-0233 for more information on how we can assist you.
Note: These posts are created through the use of outside sources. These sources include local news reports, newspaper articles, state and local police incident reports, social media platforms, and first-hand eyewitness accounts about injury accidents that take place in and around Boca Raton, Florida. Our team has not independently verified all of the facts pertaining to this accident. If you locate any information that is not correct, please notify our firm so that we can correct the post to reflect the most up-to-date information available about this incident. If you want the post to be taken down, we will do so upon request. 
Disclaimer: Our firm writes these posts in an effort to provide valuable information for people who have been injured in serious accidents. We have worked hard through the years at Your Damage Lawyer by Chad J. Robinson, PLLC, to build a reputable business reputation and hope that by drawing attention to the dangers associated with driving in Florida that drivers will slow down and obey all traffic laws so that they do not suffer injuries in an avoidable accident. We want to ensure that if you do find yourself in an accident, you know what steps to take to get the treatment you need to recover fully from your injuries. This article is not a solicitation for business. None of the information provided in this article is intended to be medical advice or legal advice. Seek medical attention if you are injured. The photograph used in this post was not taken at the actual accident scene.